Welcome...
Dear Fellow Rubber Stamp Enthusiasts,
Well, sheesh, even the most recalcitrant Luddite is obliged to keep up with the times. And so, after 40 years of presenting rubber stamp designs on paper, we are gradually moving towards an electronic presence, printing with pixels before your very eyes. We plan to use this space to keep you apprised of new rubber stamp designs, artwork and products. We hope you will enjoy visiting us here often. So take a deep breath and begin your trip...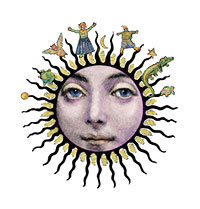 ...to the Rubber Zone
Journals, love letters, scrapbooks, greeting cards, notes and postal correspondence await your inspired adornment. Eschew outflows of under-embellished paper and...
Manifest Pictorial Zest!
Turn off the TV and tune in to your own creativity. Find some quality time for pictorial play. Get out your stamps and gather with friends or relish some quiet time on your own as you explore some uncharted territory with the stamps of your choice.